Treating disease caused or worsened by nicotine
Central nervous system
Addiction
Macular degeneration
Cardiovascular
High blood pressure
Myocardial infarction
Stroke
Peripheral arterial disease
Diabetes
Diabetic kidney disease
Glucose control
Surgical
Wound healing
Bone repair
In addition to nicotine's direct effects, tobacco use has numerous other health and societal consequences. Learn more at https://tobaccoatlas.org
Nicotine Burden
1.1 Billion smokers globally 1
1 Billion lives could be lost this century 2
6 Million pre-mature deaths annually 2
$2 Trillion annual costs of smoking related illness worldwide 3
150 Million individuals globally live with a serious illness due to nicotine addiction caused by smoking, and more than 40%, continue to smoke. 4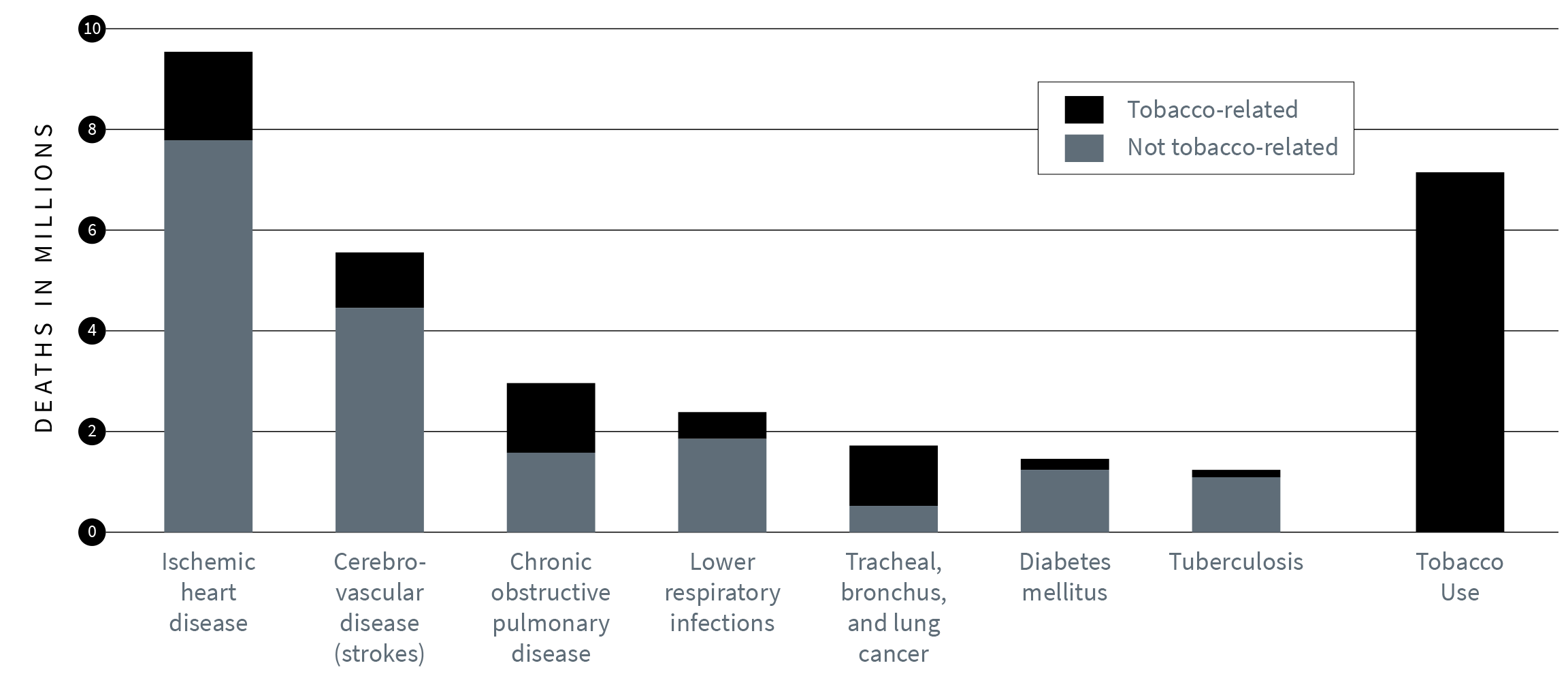 Cardiovascular disease
Chronic use of nicotine contributes to stroke, high blood pressure, cardiovascular risk, and slows wound healing. Nicotine is also contained in other smoking cessation options: nicotine replacement therapies (patches, gums, lozenges) and e-cigarettes.
No therapies exist that directly block nicotine's effects on the body. New treatments are particularly needed when attempts to quit smoking are not successful or quitters go back to smoking.
---
World Health Organization. (2015) WHO report on the global tobacco epidemic, Raising taxes on tobacco (WHO Press, Geneva, Switzerland).
World Health Organization. (2011) WHO Report on the Global Tobacco Epidemic, 2011: Warning About the Dangers of Tobacco. (WHO Press, Geneva, Switzerland).
Drope J, Schluger N, Cahn Z, Drope J, Hamill S, Islami F, Liber A, Nargis N, Stoklosa M. (2018) The Tobacco Atlas. Atlanta: American Cancer Society and Vital Strategies.
Estimated based on rates in the US: Approximately 5% of the US population have a smoking-related illness (16 million out of 325 million5) and 40% continue to smoke. 5% of the 7.6 Billion global population is 380 million. Assuming a similar 40% smoking rate globally, then approximately 152 million individuals with a smoking-related illness continue to smoke.